During this class, we were challenged with being mentors to some of the students in EDCT 300.  This is different for me because when I was in EDTC 300 we didn't have this in place so I knew there would be some learning involved.
I was honored in being the mentor to Todd Greenwood, Courtney Hawkins, and Heather Hrappsted.
Overall I would have loved to be more involved with their learning, but I am super proud of what they have completed this semester in their class and with their learning projects.
@Omish124 on Twitter
For his learning project, he wanted to work at Mario speedrunning within a specific time frame.  Then getting better at the speedrun itself.  He did this with practice and help from the internet.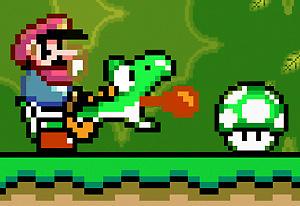 Not only did he do the video game aspect of this learning, but he learned how to edit and produce videos of his running attempts.  From the videos that he has been posting it is evident that he has improved in both aspects.
And I hope that he continues to work into the future and raise his score from 135 in the world to 1st.
@MissCHawkins on Twitter
Courtney decided that this semester was the time to become a Yogi.  She would do this by following resources and apps that she found online, and recommendations given to her by friends.
From the resources that she shared on her blog, I'm sure anyone can become a yoga master.  No matter if you can only do yoga in your home, outside, or at a yoga studio, as to make it accessible to anyone.  Courtney graciously gave a list of studios in Regina, in one of her posts, "So you want to become a Yogi".
Being able to teach something that can increase someones well being is absolutely amazing, and I am so proud of the progress she made throughout this semester.  This is easily shown in her before and after pictures that she posted in her final learning project post "Nama'seeya later".  I feel like you have succeeded in becoming a yogi (as far as I know) even at such a young age.
@HHrapp on Twitter
Heather decided to dive into the world of yoga.  She decided to use different apps, videos, and other resources to improve her skills.
Then closer to the end, she gave us a glimpse at what it takes to edit a video using iMovie while still incorporating her yoga experiences.  Blog Post.  As someone who cannot edit anything without someone else's help, this was very informative and allowed me to understand a little more into the youtube world.
In the end, Heather created a video teaching her audience some of the things that she had learned.  From this video, it is apparent that she has learned a lot through her learning project, and I was able to learn from what she gave us in the end.